Compassionate Care With A Gentle Touch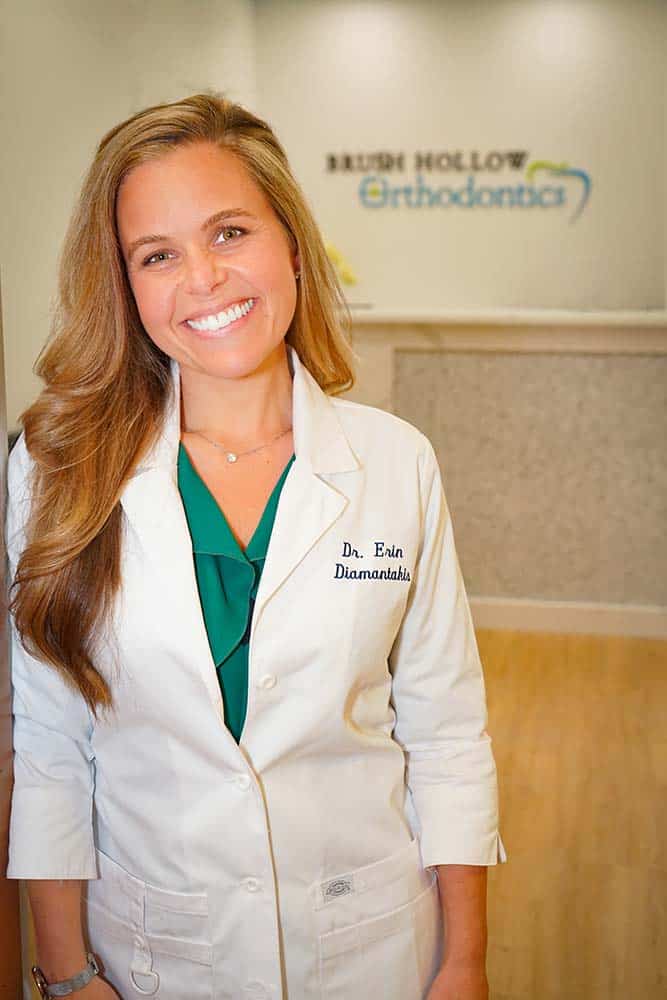 About Dr. Erin Diamantakis
Dr. Erin Diamantakis grew up in Shoreham, New York. Being an orthodontic patient as a child, her passion for providing quality orthodontic care grew from an early age.
She worked as an Orthodontic assistant for years while simultaneously completing her undergraduate degree in Spanish on full scholarship at SUNY Stony Brook.
Dr. Erin earned her doctorate from Creighton University in Omaha, Nebraska and then returned to New York to complete a general practice residency at North Shore University Hospital.
She subsequently worked as a general dentist before completing her Orthodontic residency at St. Barnabas Hospital in the Bronx.
Why Brush Hollow Orthodontics?
With a track record of outstanding service and glowing testimonials from patients, Dr. Erin has successfully established a specialized orthodontic practice that provides exceptional, personalized treatment in a warm and welcoming environment.
What Our Patients Say
"Dr. Erin is a highly competent, caring person of integrity. She did an awesome job quickly straightening my teeth. If you or your child have the privilege of working with Dr. Erin, you will not be disappointed."
Chelsea M.
"Dr. Erin is the best orthodontist. I got my Invisalign with her and my husband got his braces. I can confidently recommend her to all my friends and family. She is very kind, thorough and passionate about her job. She's bilingual (Spanish). She goes above and beyond to make sure you are happy with your treatment. She treats patients like family. I highly recommend her, She's the best!!!"
Jennifer R.
After taking my oldest to see Dr. Erin I knew that we wouldn't go anywhere else for our other two children!  Her bedside manner is second to none, and you can tell she is meticulous about her work.  She is incredibly professional, trustworthy, and thorough.  We are so happy with Dr. Erin and highly recommend her to anyone!
Jim L.
Such a great and pleasant experience. Recommend Dr. Diamantakis!
Nicole P.
Dr. Erin, I appreciate the compassionate care you have given me this past year. Thank you for doing an awesome job making my teeth straight!
Chelsea M.
I had an amazing experience getting my braces done with Dr. Diamantakis. She was kind, patient, and informative at every visit. I am so happy with the results after braces and feel more confident than ever. Thank you, Dr Erin!
Krista S.
Dr. Erin is an amazing Orthodontist. She is super nice and friendly and made the entire Invisalign process really easy. I would totally recommend her to anyone in need of an Orthodontist.
Angela D.